How Bank of America Minimum Wage Compares to Other Banks
The Bank of America (BoA) announced on Tuesday that it will raise the minimum wage for its U.S. employees to $25 an hour by 2025.
The bank, which is headquartered in Charlotte, North Carolina, also announced that it will require its vendors across the country to pay employees at least $15 an hour, more than double the national minimum rate of $7.25.
This move will affect the companies' 2,000 vendor firms across the U.S., which currently employ around 43,000 people. The bank confirmed on Tuesday that around 99 percent of the firms are already paying employees the $15 an hour rate.
Speaking to CNN's Poppy Harlow on Tuesday, BoA CEO Brian Moynihan said that the bank made the decision to raise its minimum wage as part of a commitment to maintaining a "great standard of living for our teammates," explaining that "It costs us a few hundred million dollars a year .. but it's an investment.
"The key is for big companies like ours to set a standard. We think it's part of sharing our success with our communities."
BoA, the second-largest U.S. lender, has now more than doubled its minimum wage from 2010 after increasing the rate to $17 an hour in 2019 and then again to $20 in March 2020.
All four of the country's largest banks have raised their minimum wage for employees since 2019, but BoA is currently the only lender to have publicly committed to a figure of $25 an hour.
In 2019, JPMorgan Chase & Co, the largest U.S. lender, increased its minimum wage to between $16.50 and $20 an hour with the exact amount depending on the cost of living in each area. Employees in Washington, D.C. are paid a minimum of $18 an hour.
Speaking about the decision in 2019 during an interview with Yahoo! Finance, the bank's CEO Jamie Dimon said: "We've got to give people more of a living wage," and confirmed that "we look at it every year and decide how we're going to compete or not."
While in a shareholder letter in April 2019, Dimon voiced his support for raising the minimum wage for all U.S. workers, writing: "Forty percent of American workers earn less than $15 an hour, and about 5 percent of full-time American workers earn the minimum wage or less, which is certainly not a living wage."
In March 2020, Wells Fargo & Co, the third-largest U.S. lender, announced that it would raise its minimum wage by the end of the year to between $15 to $20 an hour, with the exact number depending on the area that employees are based.
The pay increase affected the bank's 20,000 employees, with CEO Charlie Scharf explaining in a statement to accompany the announcement: "Companies have an obligation to help communities and employees reach their potential.
"Our employees are our most valuable resource, and these pay increases are just one way we are investing in our people and ensuring that Wells Fargo continues to be a great place to work."
Wells Fargo employees based in areas such as New York and San Francisco are paid a minimum wage of $20 an hour, while workers in places including Des Moines, Iowa, and Charlotte, North Carolina, receive a minimum of $16.
Although Citigroup, the fourth-largest U.S. lender, also modified its minimum wage in 2019, it only increased it to $15 an hour.
The increase took effect in June 2019, but is only in place for the bank's U.S. workers, who make up just one-third of the companies' workforce of around 200,000 people.
Speaking to CNN at the time of the increase, a spokesperson defended the bank's minimum wage, explaining that its average hourly pay is $23.89 an hour.
The decision to raise BoA's minimum wage followed an executive order signed by President Joe Biden in April, which will increase the rate for federal workers from $10.95 to $15 an hour by 2022.
Other large companies in the U.S., including McDonald's and Amazon, have also recently announced that they will increase pay for workers to attract more employees as the country reopens post the COVID-19 pandemic.
Newsweek has contacted BoA, JPMorgan, Wells Fargo and Citigroup for comment.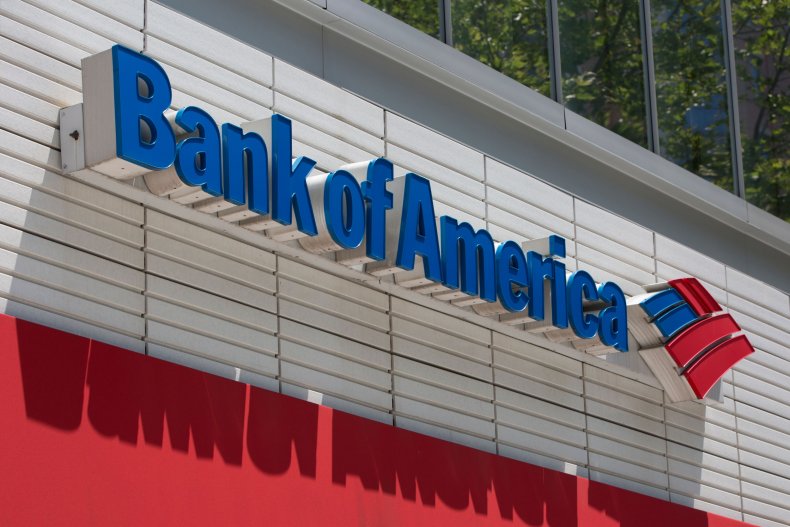 New Bank of America Report Says Digital Currencies 'Could Boost Economic Growth' in Developing Countries – Fintech Bitcoin News
New Bank of America Report Says Digital Currencies 'Could Boost Economic Growth' in Developing Countries
A new Bank of America (BOA) research study has found that both central bank digital currencies (CBDCs) and private digital currencies hold "a lot of potential" for increasing financial inclusion in developing countries. In the report, the bank also argues that such "digital currencies could reduce transaction costs and allow more economic activities in emerging market economies."
Digital Currencies and Financial Inclusion
Still, the study findings show that while digital currencies are likely to "boost economic growth" in developing countries, their adoption will carry some risk. In addition, the study also finds that the rise of digital currencies "could lead to inflation and dollarization."
Meanwhile, a separate report quotes David Hauner, the BOA's head of emerging market cross-asset strategy and economics for EMEA, explaining why digital currencies could be pivotal in emerging market countries where more than 50% of adults lack a bank account.
"Digital currencies have the potential to address many practical constraints on financial services in poor countries," said Hauner.
The report also lists the reduction of cross-border payment costs as well as the reduction of corruption and other illegal activities as some of the constraints that can be addressed by digital currencies.
Risks to Physical Currency
The BOA research study found that the rise of digital currencies could potentially "undermine a country's physical currency," however. Expanding on these findings, Hauner stated:
Easier access to alternative digital currencies is also likely to increase the volatility of domestic money supply and the exchange rate. Easier access to alternatives also raises the risks of rapid shifts of liquidity out of (or into) the currency and the banks which can magnify macro volatility in already less stable countries. Higher macro volatility would then reduce the effectiveness of policies and undermine the long-term rate of growth.
Despite these risks, Hauner suggests that more central banks are "likely to issue a general purpose CBDC in the next three years." As previously reported by Bitcoin.com News, several countries — including a few in Africa — are currently at different stages of developing or piloting their digital currencies. Several more countries are likely to join the race as more studies show that digital currency benefits outweigh the risks.
What are your thoughts on the latest BOA research report on digital currencies? You can share your views in the comments section below.
Tags in this story

Image Credits: Shutterstock, Pixabay, Wiki Commons, Feature image: Roman Tiraspolsky, Shutterstock: https://www.shutterstock.com/g/tiraspr
Disclaimer: This article is for informational purposes only. It is not a direct offer or solicitation of an offer to buy or sell, or a recommendation or endorsement of any products, services, or companies. Bitcoin.com does not provide investment, tax, legal, or accounting advice. Neither the company nor the author is responsible, directly or indirectly, for any damage or loss caused or alleged to be caused by or in connection with the use of or reliance on any content, goods or services mentioned in this article.
In Case You Missed It
Why a HELOC might be right for you | Core Bank Personal
A home equity line of credit (HELOC) is a good way to utilize the equity you have in your home to make a large purchase that otherwise is difficult to save up for. A credit limit will be established based on your home's current valuation.  With a HELOC you not only get great flexibility by being able to access your money whenever you need it, but you also only pay interest on how much you actually use.
Let's run through a few scenarios where taking out a HELOC would make sense.
Home renovations
One of the most popular reasons homeowners take out a HELOC is to fund renovation projects. Renovations can be a great use of money since they not only make your house more enjoyable to live in, they also generally increase your home's value.
Reducing debt
Tired of paying a high-interest rate on your debt? You're not alone. Using a HELOC to consolidate other forms of debt is a popular choice among homeowners. Credit card debt, for example, has a much higher interest rate than a HELOC would. The key to using this method of debt reduction is to plan ahead and make sure you know how you'll pay off the loan.
Emergency funds
We've said it once, and we'll say it again – having an emergency fund is always a good idea. Your home's equity can be that emergency fund for you. If you find yourself faced with a medical emergency, job loss, or any other unexpected emergency, know that your equity is there to help.
Higher education
Looking to further your education? A HELOC might be a good alternative to student loans since they tend to offer a lower interest rate. Another benefit to a HELOC is that you may have more money available to you.
Federal student loans have borrowing limits which can make it hard to pay for an education if you still have a balance due even after utilizing other forms of aid, such as financial ad and scholarships.
Travel plans
Traveling is always fun, but paying for it is another story. While you can fund some trips with your everyday budget, some trips require a little more money. Using your HELOC can be a lifesaver when it comes to making your dream vacation a reality. No need to pull out the credit card or overextend your budget.
Equity is one of the many benefits of homeownership and can play a big role in helping you achieve financial wellness.  Learn how to make the most of your home today
De-Banking! Former GOP Candidate Witzke Says Wells Fargo Shut Down Her Account: Report
First liberal corporations attacked conservative speech, but now they are destabilizing the finances of those they disagree with, as former Senate candidate Lauren Witzke has reportedly discovered.
American bank Wells Fargo has reportedly shut down the bank account of Lauren Witzke, a 2020 Delaware Senate GOP candidate and outspoken activist. An account purporting to represent Witzke claimed via Telegram that her bank account had been shut down, leaving her penniless in Florida: "Wells Fargo has shut down my bank account, taking all of my money and leaving me with a zero balance." The Witzke account torched Wells Fargo for leaving her in the lurch and causing her to rely on the charity of her friends:
"When I called Wells Fargo told me that it was a 'business decision' and that they have the right to close my account at any time. Had I not been surrounded by friends in Florida, I would be completely stranded. Use this as a warning and get your money out of Wells Fargo if you are a conservative. This is so evil."
Wells Fargo responded to inquiry from MRC Free Speech America by denying any political motivations:
"Wells Fargo does not consider political views or affiliations in making account decisions.  An account may be closed for a number of reasons based on individual facts and circumstances. While we cannot discuss customer accounts because they involve confidential customer information, we can report that we have reviewed this situation, gave ample notice of our decision and it was handled appropriately."
Conservative firebrand Michelle Malkin wrote in a commentary on CNSNews that Witzke's "entire life savings of roughly $15,500 had been transferred to 'loss prevention.'" Malkin further asserted that "[Witske] would be barred from retrieving her funds at any branch office and that they would 'mail a check.'"
Malkin reportedly heard from Witzke directly, the former candidate stating, "The current weaponization of corporations and banks against conservatives and Christians is terrifying." Witzke reportedly recounted how sudden her ousting was from Wells Fargo:
"I have banked with Wells Fargo for years, using it as savings when I was working in ministry. Only when I was given a platform to share my Christian views on the national stage did Wells Fargo decide to shut down my account. The Evil Oligarchs at Wells Fargo left me, a young woman, with a balance of zero dollars, stranded, and a thousand miles away from my home with no explanation…Christians and Conservatives, get your money out of Wells Fargo, NOW!"
Conservatives are under attack. Contact your local representative and demand that Big Tech be held to account to mirror the First Amendment while providing transparency, clarity on "hate speech" and equal footing for conservatives. If you have been censored, contact us at the Media Research Center contact form and help us hold Big Tech accountable.