Celebrate 35 Years with Give Kids the World – News and Ice Cream! ⋆ ZANNALAND!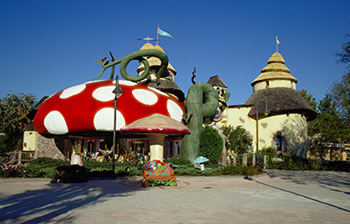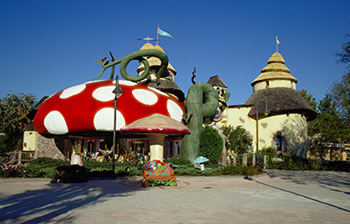 It's no secret that I love Give Kids the World Village and all that they stand for and do for critically ill children wanting to visit area theme parks. I'm definitely not alone in my love, as so many local and national companies have partnered with GKTW Village over the years to sponsor events, parts of the village, and more. As they begin celebrating 35 years of magic, Give Kids the World is undergoing an amazing refurbishment to bring even more to wish children and their families. GKTW recently invited us out to celebrate the opening of Henri's Starlite Scoops, their refurbished ice cream shop for wish families, and to see some of the plans for the new and refurbished areas that will be coming soon at Give Kids the World.
The former Ice Cream Palace closed down to make way for this new shop, designed in cooperation with Walt Disney Imagineering and input from Universal Creative. This fully accessible ice cream shop features 28″ ice cream chests, so all children, even those in wheelchairs can see and choose their flavors. The topping bar is also accessible, while an open floor plan in the seating area allows for ease of wheelchair navigation.
Named after founder Henri Landwirth, the name also pays tribute to the Starlite Motel on Coco Beach, FL, which Henri managed when it served as the temporary home to the original Mercury 7 astronauts. There are nods to the original space program and the Starlite Motel sprinkled throughout.
Flavors include: Choco-Rocket (chocolate); Moon Cream (vanilla); Shooting Starberry
(strawberry); Moon Rock Crunch (cookies & cream); and Meteor Mint Chip. Sweet treats come in a dish,
cone, Popsicle, Fudgesicle or ice cream bar. Also featured are Milky Way Shakes, Galactic Splits and Celestial
Sundaes. Gluten-free, dairy-free and sugar-free options are also available. Scooping ice cream is one of the
most popular volunteer shifts at Give Kids The World. During a typical week, volunteers fill more than 70
shifts to ensure guests can enjoy ice cream all day long.
To see Henri's Starlite Scoops and more of the upcoming refurbishments and updates, watch our vlog below:
We are very excited to see in person how valuable Give Kids the World donations are, and just what happens with the money or volunteer time people donate. If you would like to do more, we have created a Fundraising Team for Zannaland. We'd love you to join, and or donate or fundraise and ask those you know to help as well. We have done this a few times over the years with Gingerbread 5k's, the Challenge for Hope, and Night of a Million Lights, so we'd love to support GKTW together with your help!
If you would like to join our Fundraising Team to either help raise money or donate directly to Give Kids the World – click here: https://give.gktw.org/zanna for the Zannaland Team Fundraising Page to donate or join the team. Thank you!
Saudi Arabia Goes Full On ISIS To Terrify The World – News Punch
At the cost to world peace, the Saudi government experiments with terror on its perceived Shia enemies.
Dan Sanchez reports: The Saudis Go Full ISIS
In Their US-Backed Takfiri War on the Shia
BYPASS THE CENSORS
Sign up to get unfiltered news delivered straight to your inbox.
You can unsubscribe any time. By subscribing you agree to our Terms of Use.
Saudi Arabia has perpetrated a mass execution that puts ISIS's beach beheadings to shame. Forty-seven heads rolled on Saturday. One of them belonged to Nimr al-Nimr, a revered Shi'ite cleric who had been sentenced to death for sermons in which he criticized the government (especially for its persecution of the country's Shi'ite minority). His brother has been sentenced to be crucified.
This was done as the Saudis continue to drop American bombs on Shia in Yemen (boosting Al Qaeda there) and to hire jihadis to help ISIS and Al-Qaeda kill Shia in Syria.
It is no mystery why the Saudis are such brothers in arms with the Bin Ladenites, sharing both their hyper-sectarian aims and their gruesome methods. The Wahhabist Saudis and the Salafist terrorists are both "Takfiris": theocratic, fundamentalist Sunnis who justify sectarian persecution and bloodshed on the grounds that their victims are not true Muslims, but apostates.
Both the Saudis and ISIS regularly behead people for apostasy. The Saudis just do it in white robes and with swords, while ISIS does it in black pajamas and with knives. Saudi Arabia (the older, bigger oil rich extremist theocracy between the two) has been aptly characterized as "An ISIS That Has Made It." The Saudis are so sensitive about this obvious comparison, they threaten to sue anyone who makes it.
The House of Saud relies on the support of the country's Wahhabi clerics for its divine right to rule. To appease the clerics and their threateningly zealous followers, the Saudis must constantly promote their extremist brand of Islam both within the country and internationally. They do this by using billions of petrodollars to finance both indoctrination (state-sponsored radical madrassas, media propaganda, etc) and jihad (the CIA-backed Afghan Jihad of the 80s, the CIA-backed Syrian Jihad underway now, etc). Saudi support for the Afghan Jihad resulted in the rise of Al Qaeda. Saudi support for the Syrian Jihad resulted in the rise of ISIS.
Since 2006, the Saudis have been obsessed with waging a proxy jihad against what it conceives as a burgeoning Iran-led "Shia Crescent" (including Iraq, Syria, Hezbollah, and Yemen) that threatens their interests in the region. This anti-Shia vendetta has been supported by its fellow Gulf sheikhdoms, the US, the EU, Turkey, and Israel.
Starting in 2011, this campaign went into overdrive in Syria, where the Saudis and their Western and regional allies have sided with and sponsored the Takfiri militants fighting to conquer and "cleanse" the Levant. That axis is being opposed by "Crescent" powers and by Russia.
In 2015, another front opened up in Yemen, where the Saudis began a US-supplied brutal air war against that country's new Shiite Houthi government and a starvation blockade of its people. This war has helped the Takfiri terrorists of AQAP (Al Qaeda in the Arabian Peninsula) conquer territory in the country.
With the beheading of Nimr, this proxy war between the Saudis and Iran has threatened to become a direct conflict. Enraged at the execution, Shi'ite protesters in Iran ransacked and firebombed the Saudi embassy. The Saudis reacted by completely breaking off diplomatic contact with Iran. Soon after, Bahrain, the United Arab Emirates, and Sudan slashed ties as well. It should be noted that Bahrain is a majority Shi'ite country oppressively ruled by Sunni governing minority.
Given how quickly the Gulf sheikdoms made such a serious break over an incident that involved no bloodshed and likely no state involvement (the Iranian government arrested several of the protesters), it seems likely that the Saudis were itching for an excuse to ramp up the conflict and hoped the execution of the cleric would provoke Iran into providing one.
The severing of diplomacy is often a prelude to full war. If a direct war between the Saudis and Iran were to break out, the blood-drenched chaos now afflicting the Middle East would widen even further. It would also pull each country's allies even deeper into conflict, possibly leading to full-on direct war between Israel and Hezbollah, Turkey and Syria, even NATO and Russia.
We in America must demand that our government stop sending terror toys to Takfiris before the Saudis and their fellow travelers in ISIS and Al Qaeda precipitate a world war in which we could all lose our heads.
Latest posts by Edmondo Burr (see all)
WORLD NEWS: MH17 plane crash families prepare for critical trial phase – U-S-NEWS.COM
WORLD NEWS:
MH17 plane crash families prepare for critical trial phase
FILE PHOTO:
Lawyers
attend the judges' inspection of the reconstruction of the MH17 wreckage, as part of the murder trial ahead of the beginning of a critical stage, in Reijen, Netherlands, May 26, 2021. REUTERS/Piroschka van de Wouw/Pool
June 4, 2021
By Stephanie van den Berg
AMSTERDAM (Reuters) -Families of people who died in the 2014 downing of Malaysia Airlines flight MH17 said they were preparing to hear painful details when a critical stage of a trial over the crash starts on Monday.
MH17 was flying from Amsterdam to Kuala Lumpur when it was shot down by a missile fired from territory held by pro-Russian rebels during fighting with Ukrainian government troops, international investigators say.
All 298 people on board were killed, two-thirds of them Dutch nationals.
Dutch judges overseeing the murder trial of three Russians and a Ukrainian man accused of having responsibility for the downing will summarise evidence at the hearing in a high-security courtroom next to Amsterdam's Schiphol airport.
"On the one hand we want to know exactly what happened, why it happened and who was responsible, but the price you pay for that is that there is also information released that could be shocking," Piet Ploeg, a spokesman for the relatives, said.
"Eventually that should lead to getting justice and justice includes at least that we have an independent court rule on who was responsible," he told Reuters. Ploeg lost his brother, sister-in-law and nephew in the crash.
After years of collecting evidence, a team of international investigators concluded in May 2018 that the missile launcher used to shoot down the aircraft belonged to Russia's 53rd Anti-Aircraft Missile Brigade.
The Dutch government holds Moscow responsible. Russia denies any involvement.
Prosecutors, who say the four defendants all held leading positions in pro-Russian militias operating in Ukraine, will present evidence and may call witnesses, court officials said.
None of the defendants are in custody. One, Russian Oleg Pulatov, is represented in the proceedings and has said he had no involvement in the crash.
The other three are being tried in absentia and have not appointed lawyers to represent them.
Prosecutors say the investigation into MH17 is still ongoing and they are looking at other possible suspects, including the people who manned the missile system and ordered its firing.
After the prosecution presents its view on the judges' summary of the case file on June 17 and 18, the defence will have an opportunity to respond.
No date has yet been set for closing arguments, but the court said that victims' families could address the judges directly about the impact of the crash on their lives in hearings in September.
(Reporting by Stephanie van den Berg; Editing by Anthony Deutsch and Andrew Heavens)
Hmm. yes i understand the
question, you know it's been at least
15 years since I've been following the news, no 10 my folks do that, hmm. what was the question again !?
Excuse me, do you remember
where you read about this ?
Are you kidding !?
of course I can, it was here
on U-S-NEWS.COM
(Visited 1 times, 1 visits today)
WORLD NEWS: WHO asks for re-checks of research on when coronavirus first surfaced in Italy – U-S-NEWS.COM
FILE PHOTO: A man wearing a mask walks in the Duomo square as Lombardy tightens restrictions due to a surge in the number of the coronavirus disease (COVID-19) infections in the region, in Milan, Italy, March 5, 2021. REUTERS/Flavio Lo Scalzo/File Photo
June 2, 2021
By Emilio Parodi
MILAN (Reuters) -Samples from a study suggesting the coronavirus was circulating outside China by October 2019 have been re-tested at the World Health Organization's (WTO) request, two scientists who led the Italian research said.
There is growing international pressure to learn more about the origins of the pandemic that has killed more than 3 million people worldwide and U.S. President Joe Biden last week ordered his aides to find answers.
The WHO said on Friday experts were preparing a proposal on the next studies to be carried out into the origins of the virus, but that there was no set timeline. [nL2N2ND20N]
The UN body reacted to Biden's announcement that intelligence agencies were pursuing rival theories, including the possibility of a laboratory accident in China, by saying the search was being "poisoned by politics".
COVID-19 was first identified in the central Chinese city of Wuhan in December 2019, while Italy's first patient was detected on Feb. 21 last year in a small town near Milan.
However, a study published last year suggested antibodies to either the virus or a variant were detected in Italy in 2019.
That prompted Chinese state media to suggest the virus might not have originated in China, although the Italian researchers stressed the findings raised questions about when the virus first emerged rather than where.
"The WHO asked us if we could share the biological material and if we could re-run the tests in an independent laboratory. We accepted," Giovanni Apolone, scientific director of one of the lead institutions, the Milan Cancer Institute (INT), said.
The WHO's request has not previously been reported.
"WHO is in contact with the researchers that had published the original paper. A collaboration with partner laboratories has been set up for further testing," a WHO spokesman said.
The spokesman said the WHO was aware that the researchers are planning to publish a follow-up report "in the near future".
He said the UN agency has contacted all researchers who have published or provided information on samples collected in 2019 that were reported to have tested positive for SARS-CoV-2, but does not yet have the final interpretation of the results.
The Italian researchers' findings, published by the INT's scientific magazine Tumori Journal, showed neutralising antibodies to SARS-CoV-2 in blood taken from healthy volunteers in Italy in October 2019 during a lung cancer screening trial.
Most of the volunteers were from Lombardy, the northern region around Milan, which was the first and hardest hit by the virus in Italy.
"None of the studies published so far have ever questioned the geographical origin," Apolone told Reuters.
"The growing doubt is that the virus, probably less powerful compared to later months, was circulating in China long before the reported cases," Apolone added.
DUTCH TEST
The WHO chose the laboratory of the Erasmus University in Rotterdam for the re-test, Emanuele Montomoli, co-author of the original study and professor of Public Health at the Molecular Medicine Department in the University of Siena, said.
The Erasmus University did not reply to requests for comment.
Italian researchers sent the team in Rotterdam 30 biological samples from October-December 2019 that they had found positive, 30 samples from the same period they had tested negative and 30 samples from as far back as 2018, negative.
"We sent them blind, that means our colleagues did not know which samples were positive and which negative," Apolone said.
"They rechecked our samples with commercial tests, which are much less sensitive than the ones we devised and validated," Montomoli said.
Despite the differences in the two detection methods, both Italian scientists said they were satisfied with the results, delivered to them in late February, adding that they could not comment further until the team of Italian and Dutch scientists have published their findings.
"We did not say in our study that we could establish without a doubt that the coronavirus, later sequenced in Wuhan, was already circulating in Italy in October," Montomoli said.
"We only found the response to the virus, namely the antibodies. So we can say that this coronavirus or a very similar one, perhaps a less transmissible variant, was circulating here in October," he added.
(Reporting by Emilio ParodiEditing by Keith Weir and Alexander Smith)